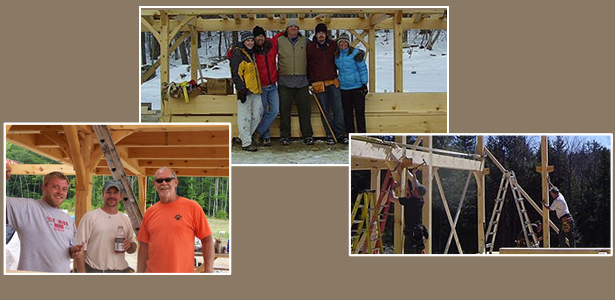 A Great Way to Build!
With Enviro-Tech your options are endless. You can hire a Builder, a Carpenter or Do-It-Yourself. You can participate in the actual construction as much or as little as you like, but you don't have to lift a hammer unless you want to.
Determine a rough plan – model plans in 3-D if needed
Estimate total finished home cost – see an Example
Visit our Timber Frame Model and Manufacturing Facility, if you'd like
Draft CAD plans (fine tune details) via the internet
Obtain Building Manual
Secure permits & Finalize financing
Sign contracts – 10% Deposit to order your materials
Foundation & 1st deck built
Assemble frame and install panels
Apply roofing
Call in subcontractors for the finish!
Since we handle the most critical parts of the project, anyone can build a Timber Frame Home. Once the shell is assembled all you'll need are a few standard tradesmen and our "Building Manual" to complete your home.
We manufacture most types of homes and will work with you to develop a rough plan at no charge. If you'd like to work on your floor plan at home, we'll show you how! If you already have a plan or have found one on another site, just send us a link, we're confident that we can give you a favorable quote while respecting the design rights of others.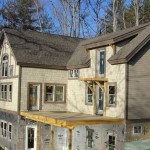 The number 1 factor when determining a home design is knowing the completed cost. We're able to estimate the total finished cost from a rough plan. These estimates will show you how much you'll have to spend on kitchen cabinets, flooring etc., where you can adjust your budget and will help you to decide what size home to build. They're also extremely useful as a benchmark for hiring subcontractors or a builder and when bank financing is involved.
We are experts in Timber Frame Construction and Design. When the time comes, we'll take care of drafting your plans. And, we don't charge architects rates! At each stage as your design develops, we'll send 3-D proofs via the Internet, saving you the trouble of having to travel! Banks and building departments generally require a set of plans and your plan fees will be deducted from your contract price.
When you receive your plans, you'll see that the foundation plan is ready for your concrete contractor to put the foundation in and your carpenter will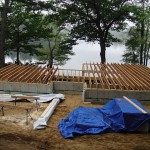 have what's needed to build the 1st deck. With our easy to understand plans and Building Manual , you will have all the necessary information right at your fingertips.
Everyone's different and is looking for something unique. Calling us to discuss your ideas, lot, costs and contracting options, will help sort out how to proceed. We enjoy meeting new people and are happy to answer any of your questions, including Land Acquisition, Financing, Geothermal, Radiant and Solar. All of our expertise is at your disposal and will be throughout your entire home building venture!

Hire a Builder, Carpenter or Do-It-Yourself?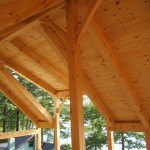 Because of our unique joinery, only two people are needed to put up one of our frames, and a lot quicker than you might think. It's all by the numbers. It's just a matter of putting the pieces together. Unlike traditional joinery that requires assembling large cumbersome bents, for the most part our frames can be assembled one timber at a time using a Genie Lift. Once complete, the precut SIP Panels are simply screwed onto the exterior of the frame.
You'll have no problem understanding what's involved.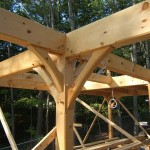 Having a local carpenter on board is a great help. They are able to handle a large part of the project. Not only can they assemble the Timber Frame & Panel Package, but they can also build the 1st deck, install roofing, windows, siding, porches etc. It's nice not to have to pay "Timber Frame & Panel Crew Rates" plus travel, food and lodging.
Everything we do is geared to the first timer. Investing a few weeks of time can potentially save you "tens of thousands of dollars" by handling the assembly of the shell. We've actually had a number of husband and wife teams' do-it -themselves. Some invite their friends and relatives. Many have told us how much fun they had and that they feel a real sense of pride in their accomplishment!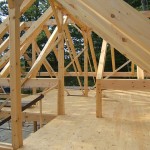 The key is, to have one person determine the sequence of events. With our step-by-step on-line assembly videos, you, your carpenter or anyone helping can see exactly what's involved! You'll realize there's no reason to worry about making a mistake.
No matter which option you choose, we're here to help. In a sense, you could consider us a partner. Just give us a call, we are available right now, and plan to be long after you've moved in.